Introducing Gears of Eden - Alpha 2!
---
It's been a long time coming, but we're excited to finally be able to say... GEARS OF EDEN Alpha 2 is here!!!
We've been working hard for the past year to achieve this milestone! As always, we maintain our usual disclaimer: this isn't Early Access; this isn't even a demo! This is an Alpha which means everything you see is in development and very likely to be replaced at some point down the road. It's really a proof of concept more than anything else at this stage, but we still hope you enjoy it!

We are extremely excited to share our progress with you. Alpha 2 is the product of our blood, sweat, and tears and we simply cannot wait to see what you think. You will need an Alpha Key to play Gears of Eden - Alpha 2. Get your free key on our website!
If you played our first alpha release, you might be wondering what new stuff we've got in store for you. Well, we don't have time to get into all of it, but let me give you a quick rundown. With this latest release, we've added: a Persistence system so you can get right back where you left off! We've also done a full overhaul on the UI system, fleshed out the crafting system, put in some cool Twitch integration for you streamers out there, and gave you some tools to make your time a little more comfortable. Oh, and did I mention that we have filled the asteroid with sights to see, hazards to brave, puzzles to solve and some hints at the full game's story that we're very excited for you to check out! And best of all? That's not even everything! For full details, check out the changelog.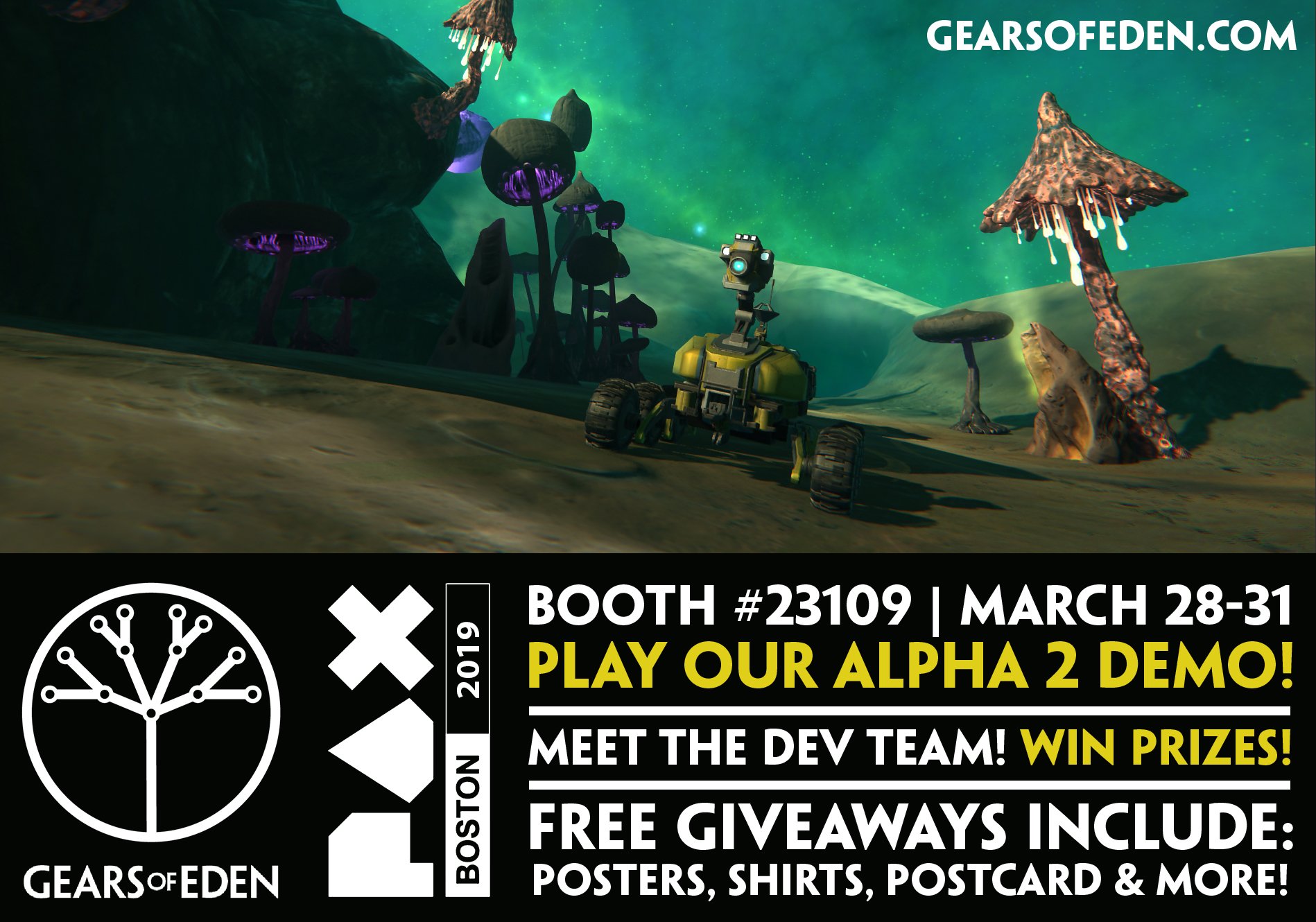 As we launch Alpha 2, we are also celebrating our first convention appearance as we prepare to showcase Gears of Eden at PAX East next week! We'll be there for the full convention, exhibiting at Booth #23109, just down the line from the awe-inspiring Double Fine booth! We're going to be showing off GEARS OF EDEN, answering any and all questions about the game, and just having a whole lot of fun with anyone who stops by. If you're reading this right now and plan on attending, you have to come say hi! There may or may not be goodies involved for anyone who mentions this announcement. Just Sayin'.
It has never been more exciting to be a part of the GEARS OF EDEN development team. We'd like to thank each and every single one of you for sticking with us through this journey. We're immensely proud of what we've accomplished here and we cannot wait for you to check it out.
See you at PAX East!!!
Get Gears Of Eden - Alpha 2